This post is a follow up to my study of the "wiggles" observed in the local oscillator of the QO-100 NB transponder. After writing that post, I have continued measuring the frequency of the BPSK beacon with my station almost without interruptions. Now I have some 44 days of measurements, spanning from April 9 to May 23. This data can be interesting to look at, so I'm doing this short post to share the data and look at it briefly.
The Jupyter notebook with all the data can be found here. The data is also linked in my jupyter_notebooks Github repository, which now uses git-annex to store the data in my home server. See the README for instructions on how to download some or all of the data files in the repository.
The whole time series can be seen in the figure below. We note that the typical Doppler sinusoidal curve varies slowly due to orbit perturbations and sometimes suddenly as a consequence of a station-keeping manoeuvre. I tweeted about one of the manoeuvres a while back.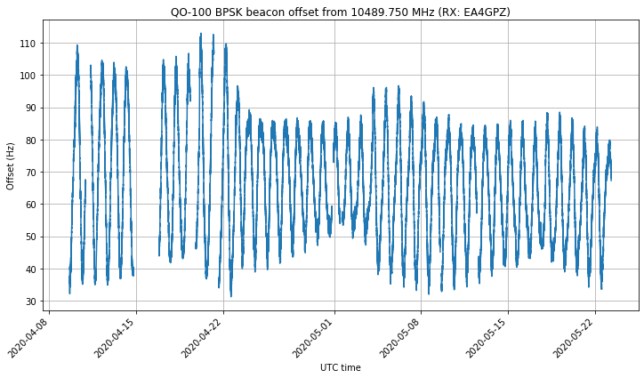 There are now too many days in order to see things clearly when the frequency curves for each day are overlaid, but hopefully the figure below gives a good idea. We can see that the wiggles still happen approximately between 21:00 and 06:00 UTC, and between 11:00 and 17:00 UTC.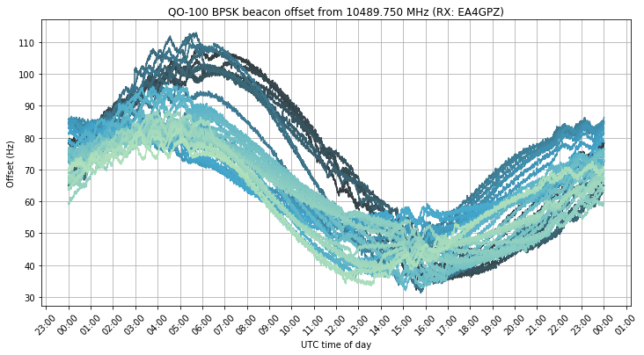 If we add an artificial offset of -15 Hz per day to the curves to prevent them from overlapping, we obtain the figure below. We see that the pattern of the wiggles keeps changing slightly, but also remains quite similar.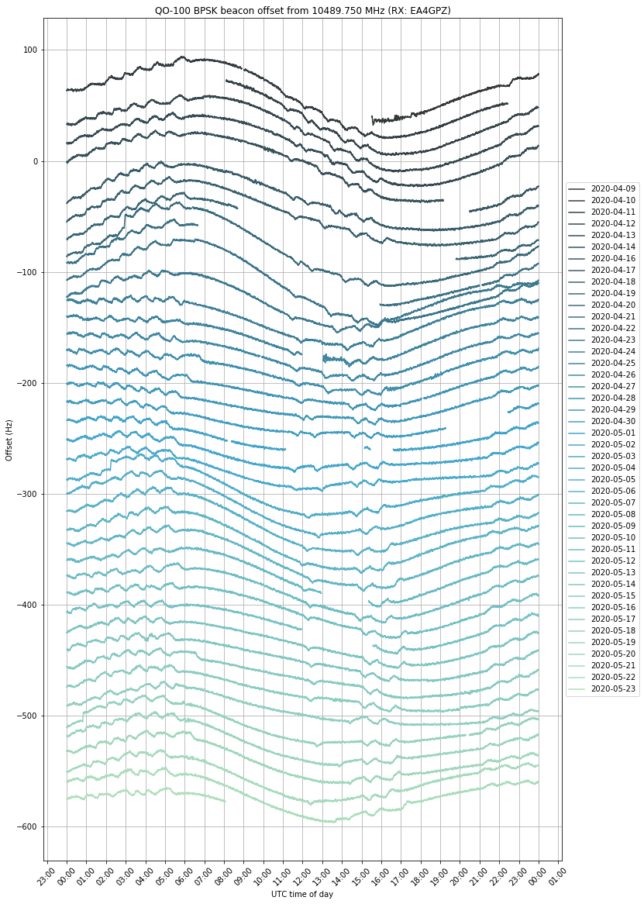 In my last post about this topic I said that it seemed that the wiggles repeated with a period of a sidereal day. Now it is clear that it is not the case. The wiggles seem to repeat roughly with a period of a solar day (24 hours). In fact, in 44 days sidereal time "advances" 2.88 hours with respect to solar time. However, it is clear that the wiggles haven't shifted that much in time.