In some of the latest posts, I've being talking about the phase noise performance of 10GHz receivers, and in particular, of 27MHz references for Ku-band LNBFs (1, 2, 3, 4). Indeed, this started when I checked the performance of my new 10MHz GPSDO and 27MHz PLL by DF9NP and I wasn't too happy with the phase noise.
After working with Dieter DF9NP in investigating this problem and performing several tests, Dieter found that the problem was likely in the loop bandwidth of the 27MHz PLL. The loop filter bandwidth is 50kHz. He proposed the following component modifications to change the bandwidth to 300Hz.
Update 2018-10-21: Dieter tells me that this problem has been solved in the new units he is selling, so the performance of the new units should be good.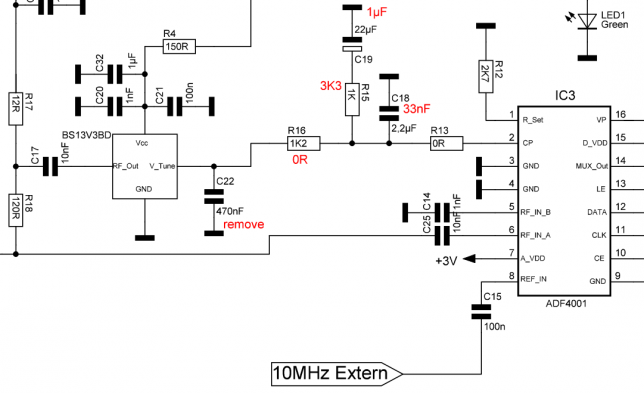 After I performed the modifications, I was quite surprised and happy with the results. As always, I've used the beacon of BADR-5 at 11966.2MHz to test the phase noise performance. Linrad's AFC is in use. The result is below. As you can see, it is as good as the best references that I had tested before.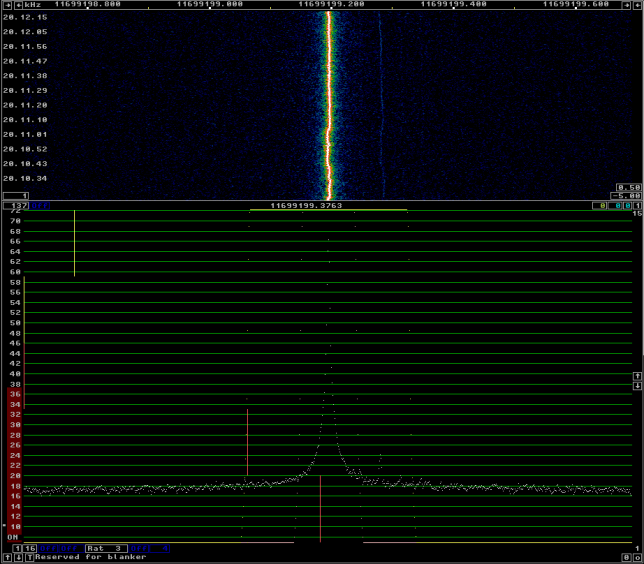 For comparison, this was the performance before the modification. The difference is huge. Many thanks to Dieter for his effort and to Luis EA5DOM, who also participated in the discussion and gave some good advice.