In a previous post, I spoke about the cubesat D-SAT. The thing that first caught my attention about this satellite is its image downlink and the quality of some of the images that Mike DK3WN has managed to receive. Yesterday, Mike sent me an IQ recording of D-SAT downlinking a couple of images. After using the Groundstation software by the D-SAT team to verify that the images in the recording can be decoded, I have reverse engineered the protocol used to transmit images and added an image decoder to the D-SAT decoder in gr-satellites.
The image decoder can be tested with the dsat-image.wav recording in satellite-recordings. This WAV file contains the image below, which shows the Southwestern part of Spain and Portugal. The image was taken by D-SAT on 2017-08-17 10:09:54 UTC and received by Mike during the 19:10 UTC pass that evening.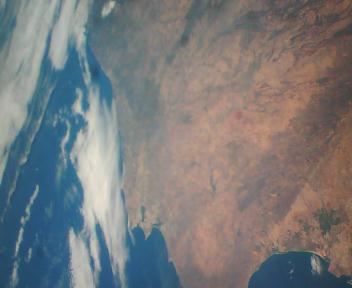 According to the TLEs, at the time this image was taken, D-SAT was just above Rincón de la Victoria, in Málaga, passing on a North to South orbit. This means that D-SAT's camera was pointing more or less in a direction normal to the orbit.
This image is a 352x288 pixels JPEG image with a size of 13057 bytes. It took 43 seconds to transfer using D-SAT's 4k8 AF GMSK downlink (yes, the overhead is around 100%, more on that later). In the rest of this post, I detail the protocol used to transmit the images.